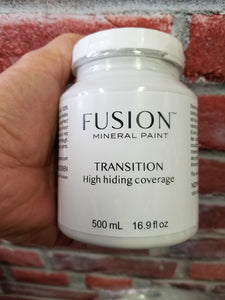 Shop RE-Market etc
Fusion Mineral Paint - Transition
Regular price
$10.99
$0.00
Unit price
per
Fusion Mineral Paint  "Transition"
What is Transition?
Transition is a "high hide covering product"
When going from a dark surface to a light colour, using Transition in a sandwich technique will save you time and money. Made from recycled pigments this economical coating as a high hiding feature, however not the same adhesive qualities as Fusion Mineral Paint.  Transition is a high quality acrylic tinted with 100% recycled waste pigment. Since each batch is unique, shades will vary with production. This neutral light grey is perfect and is a great cost savings. This product is NOT a primer and does not seal against resin or tannin bleed through. Suggested application is using the sandwich technique as explained below.
How to use
Apply only 1 coat of your Fusion Mineral Paint color
Apply 1 coat of Transition
Finish with another coat of Fusion Mineral Paint color on top
Note:  FMP previously had a product called Concealer that was similar.
---
Share this Product
---